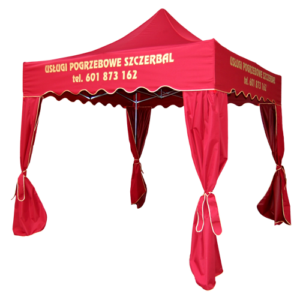 Express decorative tents are a kind of tents which differ from standard tents in decorative elements, i. e. a wavelength-finished roof, additional leg shields, dedicated edgings.
We make prints on decorative tents in Flex technology and sublimation. Flex foil is available in three colours: white, gold, silver.
This type of tents is an offer addressed to catering companies, wedding halls, funeral homes, etc.
We offer tents on steel and aluminium frames. The tents are available in many various sizes.
Express tents are available on frames:
Vito – manufacturer of tents and umbrellas
Żuki 50A,
62-700 Turek
woj. wielkopolskie
czynne w w godz 7.00-15.00
Office
tel. +48 63 289 94 49
fax + 48 63 278 15 69
tel. 63 2204831
tel. 63 2204837
kom. 507 193 407
kom. 507 193 405
kom. 509 703 991
e-mail: biuro@vitonamioty.pl
Printery – valuation
tel. +48 63 278 15 69
kom. +48 509 703 991
e-mail: biuro@vitonamioty.pl
Printery – technical support
kom. 509 703 990
e-mail: drukarnia@vitonamioty.pl