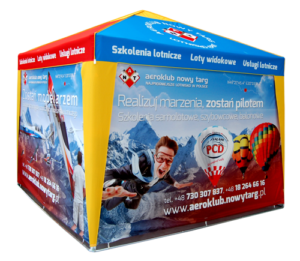 Garden arbour is available in a size of 3 x 3 m. It is designed to manage the space of a garden or a plot of land. It can also be used for various exhibitions, promotional and advertising purposes.
Garden arbour is a stable construction made of galvanized, steel profiles with diameters of 20 and 25 mm.
The topcoat is made of waterproof polyester material. The arbour can also be produced in printed, advertising version.
Vito – manufacturer of tents and umbrellas
Żuki 50A,
62-700 Turek
woj. wielkopolskie
czynne w w godz 7.00-15.00
Office
tel. +48 63 289 94 49
fax + 48 63 278 15 69
tel. 63 2204831
tel. 63 2204837
kom. 507 193 407
kom. 507 193 405
kom. 509 703 991
e-mail: biuro@vitonamioty.pl
Printery – valuation
tel. +48 63 278 15 69
kom. +48 509 703 991
e-mail: biuro@vitonamioty.pl
Printery – technical support
kom. 509 703 990
e-mail: drukarnia@vitonamioty.pl