ADVERTISING COUNTERS
Advertising tribunes are mandatory equipment for stands at fairs and events. Our inflatable advertising counters are original, aesthetic and functional products that also have an advertising function. They are used during outdoor events and inside of buildings.
The size of the counter after unfolding 12x40x110 cm, weight 13.2 kg. Transport dimension 120x60x15 cm.
Rack – TPU insert, wood. Shell – polyester fabric.
Additional options: banner, hand pump, electric pump, LED lighting.
ADVERTISING PILLARS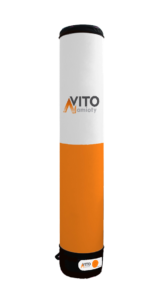 Inflatable advertising pillars are a novelty, thanks to which you can promote your company even more effectively. You can place any print on them. They can help potential customers to find your stand at the trade fair or locate your company's headquarters.
Advertising poles can be used anywhere thanks to built-in batteries. The post's assembly time is from 1 to 9 minutes, depending on its size.
We offer three sizes:
42×200 cm, weight 6,4 kg, advertising space 2,3 m²
64×300 cm, weight 10,6 kg, advertising space 5,4 m²
85×400 cm, weight 14,8 kg, advertising space 9,8 m²
Included: polyurethane insert, polyester fabric sheathing, pins, anchoring kit, hammer.
Vito – manufacturer of tents and umbrellas
Żuki 50A,
62-700 Turek
woj. wielkopolskie
czynne w w godz 7.00-15.00
Office
tel. +48 63 289 94 49
fax + 48 63 278 15 69
tel. 63 2204831
tel. 63 2204837
kom. 507 193 407
kom. 507 193 405
kom. 509 703 991
e-mail: biuro@vitonamioty.pl
Printery – valuation
tel. +48 63 278 15 69
kom. +48 509 703 991
e-mail: biuro@vitonamioty.pl
Printery – technical support
kom. 509 703 990
e-mail: drukarnia@vitonamioty.pl