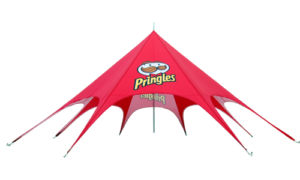 The star tent allows you to manage a large area, with an impressive and easy to install structure. It has many applications – gastronomy, sales, shows, presentations, advertising campaigns, etc.
The dimensions of the tent are sure to attract attention. Additional marketing effect can be obtained by ordering a tent in an advertising version – with a print. You can order a tent with a full print or an overprint on the selected element.
The tent frame is a durable and easy to use structure. The cover is made of high-quality polyester fabric with an area density of 230 g, available in a wide range of colours.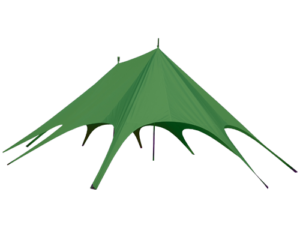 Star tents are available in two sizes – 12m and 12 x 17m. The tents are available without walls or with walls.
The set includes:
steel construction, consisting of a base, a mast and a crown,
cover made of waterproof polyester fabric with a weight of 230 g/m2,
a device that makes it easier to measure the arms of the tent,
30 cm pins to anchor the tent's arms,
transport covers.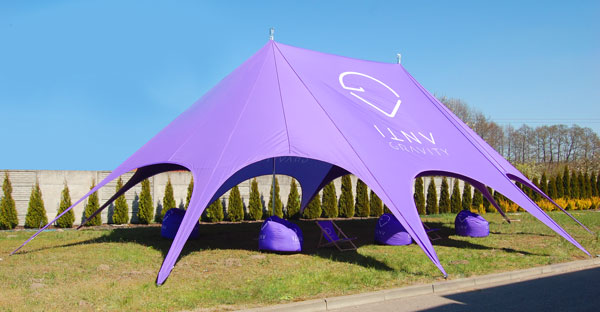 Terms of warranty
Featured products:
Vito – manufacturer of tents and umbrellas
Żuki 50A,
62-700 Turek
woj. wielkopolskie
czynne w w godz 7.00-15.00
Office
tel. +48 63 289 94 49
fax + 48 63 278 15 69
tel. 63 2204831
tel. 63 2204837
kom. 507 193 407
kom. 507 193 405
kom. 509 703 991
e-mail: biuro@vitonamioty.pl
Printery – valuation
tel. +48 63 278 15 69
kom. +48 509 703 991
e-mail: biuro@vitonamioty.pl
Printery – technical support
kom. 509 703 990
e-mail: drukarnia@vitonamioty.pl