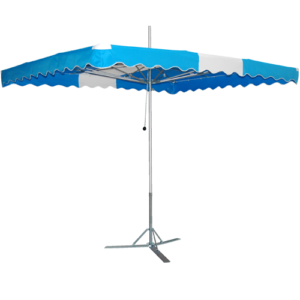 Basic Plus aluminium umbrellas are new to our offer. Umbrella in this version has a height-adjustable roof.
The umbrella frame is a robust construction made of steel and aluminium profiles. The use of a new metal rosette significantly improved the durability of this element. The set includes a three-arm steel base with a weight of 15 kg.
The umbrella cover is made of impregnated polyester material, available in a wide range of colours. The Umbrella is also available in an advertising version with overprint.

Basic Plus aluminium umbrellas – parameters
Available sizes

Frame weight
Sheath weight
Max height
The length fo mast

Profiles
Base
3×2 m
kg
kg
15 kg

3×2,5 m
kg
kg
15 kg
3×3 m
kg
kg
15 kg
3×4 m
kg

kg
15 kg

Basic Plus aluminium umbrellas – frame elements
We also offer umbrellas on Stndard steel frame, Premium steel and aluminium Basic.
Vito – manufacturer of tents and umbrellas
Żuki 50A,
62-700 Turek
woj. wielkopolskie
czynne w w godz 7.00-15.00
Office
tel. +48 63 289 94 49
fax + 48 63 278 15 69
tel. 63 2204831
tel. 63 2204837
kom. 507 193 407
kom. 507 193 405
kom. 509 703 991
e-mail: biuro@vitonamioty.pl
Printery – valuation
tel. +48 63 278 15 69
kom. +48 509 703 991
e-mail: biuro@vitonamioty.pl
Printery – technical support
kom. 509 703 990
e-mail: drukarnia@vitonamioty.pl