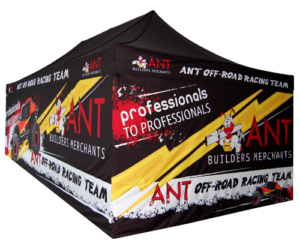 Lux Express tents on the aluminum rack are the product of the highest quality. Tents of this type are well-proven, durable and easy to use constructions.
We have introduced tents in sizes 3×3,4,5×3 and 6×3.
The cover of the tent is made from double impregnated polyester fabric with a weight of 230 g. We offer tents in a wide range of colours and we also offer advertising tents.
The basic set includes the following:
frame
sheathing (roof + 3 walls)
frame cover
cover bag
Stand specification of the frame:
the outer leg of the cube – 50 mm (wall thickness 2 mm)
cube leg insert – 43 mm (wall thickness 2 mm)
profile in the roof (sabre) 17 x 35 (wall thickness 2 mm)
Express tents on the Lux aluminium frame – parameters
Available sizes

Frame weight
Sheath weight
Height of wall
Overall amount

Size after folding
3×3 m
29 kg

9 kg

200/330 cm

33x33x157 cm

3×4,5 m
38 kg

11 kg

200/330 cm

33x38x157 cm

3×6 m
51 kg
14 kg

200/330 cm

33x57x157 cm

4×6 m
45 kg

18 kg
210/230/390 cm

33x43x205 cm

4×8 m
63 kg

20 kg

210/230/390 cm

33x55x205 cm

5×5 m
71 kg
24 kg
210/325 cm

55x55x160 cm

6×6 m
105 kg

30 kg

210/410 cm

58x58x157 cm

Frame elements
Due to their low weight, the express tents on the aluminium frame should be shielded from the wind. On our offer we also have all the necessary accessories.
Downloads

Manual picture version

Manual descriptive version

Remember not to leave the tent unattended and fold it in case of strong wind.
Vito – manufacturer of tents and umbrellas
Żuki 50A,
62-700 Turek
woj. wielkopolskie
czynne w w godz 7.00-15.00
Office
tel. +48 63 289 94 49
fax + 48 63 278 15 69
tel. 63 2204831
tel. 63 2204837
kom. 507 193 407
kom. 507 193 405
kom. 509 703 991
e-mail: biuro@vitonamioty.pl
Printery – valuation
tel. +48 63 278 15 69
kom. +48 509 703 991
e-mail: biuro@vitonamioty.pl
Printery – technical support
kom. 509 703 990
e-mail: drukarnia@vitonamioty.pl